Blockchain has been a buzzword over the past few years, and it's really no surprise that it is changing the dynamics of many industries.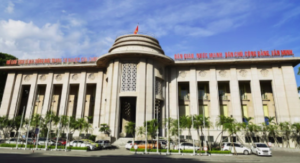 Some of the ways blockchain technology will change the future of the banking system are as follows:
(1) Fast international money transfer;
(2) Helps increase security and reduce fraud;
(3) Blockchain has the potential to significantly reduce banking service costs and improve product quality;
(4) Helps to reduce human error;
(5) Blockchain can help speed up the peer-to-peer (P2P) lending process.
With these features, Blockchain technology is now considered to have great potential in overhauling the way the banking industry works and making it more transparent, efficient, secure and cost-effective. However, in order to get the most out of the applications of blockchain technology, banks first need to develop the necessary infrastructure to operate the right applications. At the same time, a lot of banks – financial institutions are needed to participate in the blockchain technology application process in order to soon promote the legal corridor as well as policies that allow piloting solutions in Vietnam and spreading them out.
Stemming from the above context, on October 26, 2022 Vietnam Blockchain Association coordinating with Vietnam Banks Association co-organized the Workshop "Opportunities and challenges of Blockchain application into operation in the financial industry".
This is an important workshop in enhancing the participation of Ministries, departments and governing agencies in the development and application of blockchain technology to the digital economy; collect opportunities, challenges and propose solutions to research and consider towards completing legal policies, building institutions for blockchain technology and helping banks – financial institutions in Vietnam take advantage of opportunities for strong and sustainable development.