At the opening ceremony of the first Vietnam Blockchain Summit held on October 19, the Vietnam Blockchain Association (VBA) signed a strategic cooperation agreement with Chainalysis to promote extensive research in the field of blockchain technology.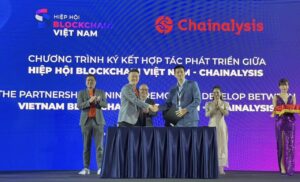 Sharing at the cooperation signing ceremony, Mr. Phan Duc Trung, Standing Vice President of VBA said, "VBA has compiled a number of presentations and newsletters on blockchain for member businesses and key agencies. government, but with quality data from Chainalysis, hopefully we can improve and give better assessments to businesses and investors in Vietnam."
Chainalysis is a company that provides blockchain data, analysis and research services to government agencies, exchanges, financial institutions, insurance, and cybersecurity companies in more than 70 countries.
Chainalysis Asia Pacific director Benard Lim emphasized "Chainalysis wishes to bring blockchain analytics data to Vietnam to build a transparent and trusted ecosystem, connecting with VBA will be the first step towards achieving this goal."
Chainalysis is committed to providing reports and comments on the Asian blockchain market so that VBA can build on these reports to increase its ability to build specific data information for member businesses as well as replicate. operate and connect with businesses in the international market.
Source: Dien dan pho cap blockchain.