VIETNAM BLOCKCHAIN SUMMIT 2022 – SHAPING THE FUTURE, Event by Vietnam Blockchain Summit on Oct 19, 2022 at 8:00 AM – Oct 20, 2022, 5:00 PM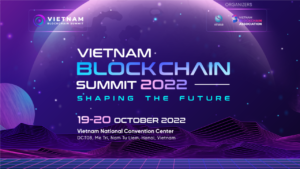 The development of applications and smart technologies in the 4.0 technology era to better fulfill life's demands. Blockchain is viewed as the "key" to constructing the next information technology platform.
Blockchain will open up a possible application trend for a variety of areas, including finance and banking, retail, freight, manufacturing, and telecommunications, due to its unique properties…
"Shaping the Future" – Vietnam Blockchain Summit's theme will discuss trends, showcase the newest tech, exhibit companies, network, and expand collaboration that is at the forefront of technological change.
The sessions are focused on special announcements regarding new tech start-ups, technological progress, and growth, sharing lessons learned, investments, and overall upcoming trends and predictions delivered by world-class thought leaders.
This event will be attended by:
– Lawyer Hien Nguyen, Member of Standing Committee of Vietnam Blockchain Association, Managing Partner of IMG Law.
——————–
IMG Law
*𝐇𝐨𝐭𝐥𝐢𝐧𝐞: +84988723188, +84988211968
*𝐄𝐦𝐚𝐢𝐥: [email protected] 
*𝐖𝐞𝐛𝐬𝐢𝐭𝐞: https://img-law.com/vi/trang-chu/ 
*𝐅𝐚𝐧𝐩𝐚𝐠𝐞: https://www.facebook.com/imglegal
*𝐈𝐧𝐬𝐭𝐚𝐠𝐫𝐚𝐦: https://www.instagram.com/imglaw.global/
*LinkedIn: https://www.linkedin.com/in/img-law-global-aa7401253/
*Twitter: https://twitter.com/imglaw_global